Best Commercial Upholstery Cleaning Services in Melbourne
Cleaning upholstery is as important as cleaning carpets and mattresses. Unclean and untidy upholstery is not only an eyesore, but it is also detrimental to health. That's why you must have the upholstery of your office, or commercial property cleaned periodically. Trust only the best cleaners specialising in upholstery cleaning. Pet Stain Remover is the best name in Melbourne to trust. After spending over 20 years in the industry and with some of the best cleaning experts, we are the most acclaimed commercial upholstery cleaning company in Melbourne.Our cleaners are qualified and experienced, have access to the latest tools, and are familiar with the most effective cleaning techniques. They always consider the materials the upholstery is made up of and will use appropriate cleaning products & techniques. This proves our local commercial upholstery cleaners in Melbourne always deliver flawless results. We are also known for our competence in using eco-friendly cleaning products.
What is the Importance of Commercial Upholstery Cleaning Services?
Time takes its toll on your furniture. If not cared for and maintained adequately your sofas, cushions, couches, and upholstered chairs suffer relentless oxidation and discolouration. This is where our professional commercial upholstery cleaners in Melbourne will make a difference. They will use all their experience and knowledge to give back the original look and feel of your upholstery and add life. But, more importantly, they will eliminate the buildup of potentially health-threatening pathogens from the upholstery. With our expertise in using the most effective upholstery cleaning solutions & equipment along with the tested methods, we are the best commercial upholstery cleaners in Melbourne.
What are the Advantages of Our Commercial Upholstery Cleaning in Melbourne?
Our commercial upholstery cleaning experts in Melbourne use the latest and most effective cleaning methods, including the hot water extraction method.
They are impeccably trained in the latest techniques and are immensely experienced.
Our cleaning service also includes the safest stain pre-treatment & removal at no additional cost.
Despite being the best, we offer affordable commercial upholstery cleaning services in Melbourne.
We guarantee 100% customer satisfaction.
Our upholstery cleaning includes additional services like fabric protection, deodorising and upholstery sanitising.
We offer on-time and on-budget service that meets your customised cleaning needs.
We offer discounts when you club upholstery cleaning with other services like carpet cleaning service.
These value additions make ours the best commercial upholstery cleaning services in Melbourne.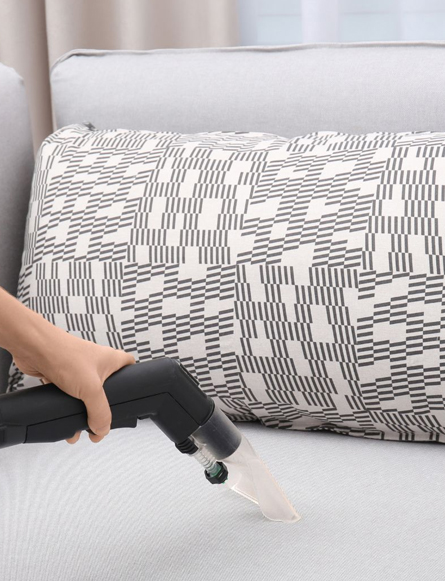 How Does Our Commercial Upholstery Cleaning Work in Melbourne?
Our highly vetted cleaners have the appropriate tools as well as the experience to carry out the highest quality of job, which includes:
Regular & periodic upholstery cleaning
Leather cleaning
Our local Melbourne commercial upholstery cleaners will closely inspect and define your upholstery material. Next, they will pre-vacuum and pre-spray to loosen up the stains and patches. Then they will pre-treat them. They will follow this up by using the hot water extraction method. Finally, they will pressure-inject harmless, organic yet powerful detergents into the upholstery fabric and pull it along with all the grime and dirt. This will return the upholstery fabric's original look, feel and colour.
The average drying time of the upholstery is between 6 and 8 hours, depending on the fabric.
How Does Our Leather Upholstery Cleaning Process Work?
Our Melbourne commercial upholstery cleaning experts will vacuum your leather upholstery
They will spray the specialised leather cleaners and thoroughly clean & wipe the surface
Then they will apply conditioners to nourish the leather for better shine & smoothness
Questions About Upholstery Cleaning You May ask
With time, the stains, dirt & dust turn stubborn and deeply rooted in the fabrics. As a result, cleaning gets tougher and takes longer. It will also help keep the carpets free from bacteria and other pathogens.
Generally, drying takes 6 to 8 hrs after our commercial upholstery cleaning in Melbourne, depending on the upholstery material. You can use them after that period.
Yes, we do, and that's why our local commercial upholstery cleaners in Melbourne are the safest for your upholstery.
Our commercial upholstery cleaning experts in Melbourne are trained to take every safety measure to protect your assets.
AREAS COVERED
Commercial Upholstery Cleaning Melbourne CBD
Book Our Service to Give Your Upholstery a New Look & Feel
Call us at 03 8583 9106 to hire commercial upholstery cleaners in Melbourne from Pet Stain Remover straight away. Or write to us for an online, free quote, and we will get back to you immediately.