The Best Pet Urine Stain, Odour and Carpet Cleaner in Melbourne
If you feel bothered and embarrassed by the pet urine stain on the carpets and the associated pungent smell, you have just one step to take- turning to a bunch of reputed professionals in your locality who are into removal of pet urine and odour from carpets. If you are in Melbourne, the name that you need to turn to is
Pet Stain Remover
. With over 20 years of experience, and some of the most skilled, experienced and the best carpet pet stain cleaners in Melbourne, we are your one stop solution, when it comes to removal of pet urine stain & smell.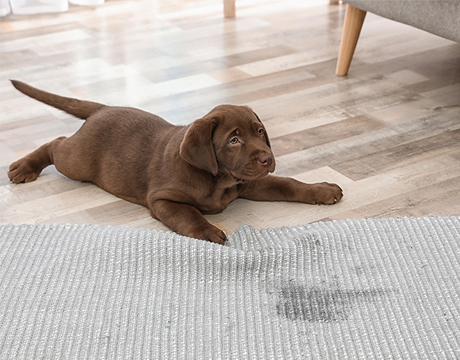 Why do you need Professionals to remove pet urine and stain from carpet in Melbourne?
Your pet is definitely adorable to you and a very important member of your family. But pet urine on carpet can cause serious health risks, more so if you have kids or toddlers. That's why you must have the urine and its smell removed by the best professional carpet urine cleaners in Melbourne at the earliest. Pet urine, if left unattended can have disastrous consequences on health, because urine contains:
Ammonia: The pungent smell that emits from urine originates from ammonia, which urine always contains. Over time, this ammonia can have a detrimental effect on human health, more so for those with asthma, COPD, emphysema or other kinds of allergies.
Bacteria: Urine, being an excretory fluid, is rich in bacteria. Thus, if you have babies, kids, infants or old and sick individuals who have a weak immune system, it can have serious consequences on their health. Bacteria may cause respiratory complications, with inflammation in the thorax, and can cause running nose, weeping eyes and even sinusitis.
Mould: Pet pee stains, if not properly cleaned and comprehensively soaked from the carpet, invariably leads to growth of moulds, like penicillium, which can lead to respiratory complications. Another mould, aspergillus, causes more dangerous lung ailments, which may be fatal for babies and elders.
This proves how important it is to hire professional dog and other pet urine cleaners in Melbourne who would come up with appropriate measures to remove pee stains and odour from the carpet.
What makes us the best dog and other pet pee cleaners in Melbourne?
We are a local Australia-based company, fully insured, with licensed and bonded cleaners
All our pet pee cleaners in Melbourne are experienced and impeccably trained with the best tools & equipment and the latest procedures.
We are cost effective despite guaranteeing optimal quality
We ensure eco-friendly solution that pose no threat to the health and environment
We offer same day service
We guarantee 100% customer satisfaction
Book a Service Call NOW!!
Don't wait then, if you have to hire the best dog pee cleaners in Melbourne. Call us to book a service call straight away. You can also get an online free quote from our end.